What is ArchVizViewer?
ArchVizViewer visualize architectural models interactively and allows an direct interchange between architect and owner via comments. As architect you will enable your customers a convienient way to view and comment your plan directly in the model.
Further ther is a day light simulation which allows viewing the light and shadow situations over a comlplete day. Changing the direction of the building will show the changes of lighting directly without steppings. The software runs on PCs and MACs in the browser or as app on mobile devices.
Get it here: iOS-AppStore, Android-AppStore or try the Website version.
What is ArchVizViewer not?
This is no high quality rendering app which will take over 30 minutes per image to compute. We render 30 images per second - enabling us to move in the plan and see around every corner in real time. If you are looking for a rendering solution you need to look elsewhere. The real time approach allows interactive functions not possible with renderings.

Who might use ArchVizViewer?
First of all ArchVizViewer is created for architects and house owners planing a house. However, it can be a useful marketing tool for home construction companies. It opens a direct digital comment channel between you and your customer.
How to use ArchVizViewer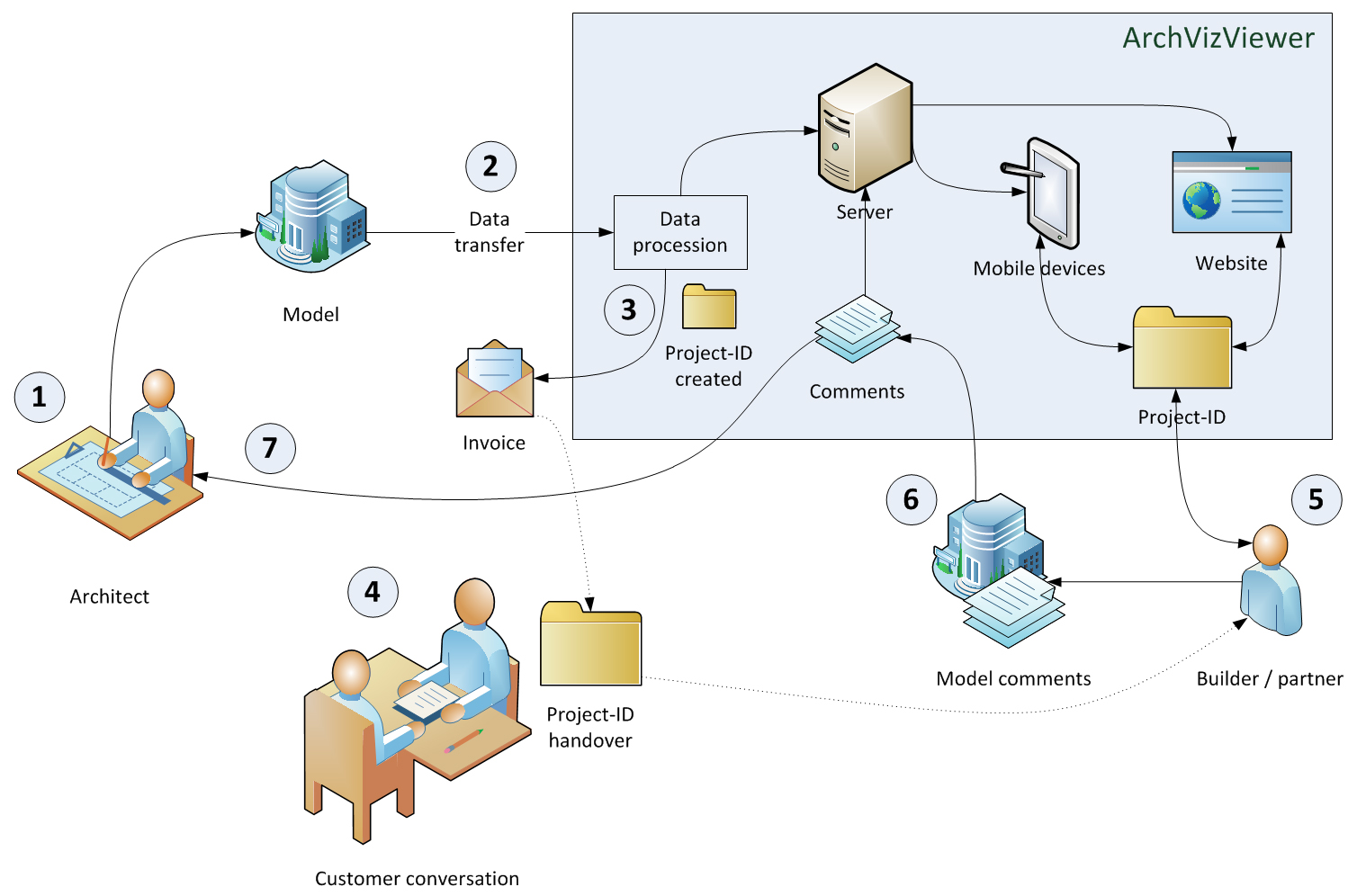 Architect creates a model.
The modell will be exported from the architects planning software.
The exported modell will be processed so our interactive software can show it correctly. At once as the processing is completed the visualization can be viewed via the project ID. The ID will be part of the invoice.
Architect will talk to the builder/customer and handover the project-ID.
The builder can view the interactive building model via the project-ID in our software.
Also the builder can leave comments on the model which will be saved on our server.
Architect can see the comments directly in the model and can alter the model in his plannig software.
Any questions regarding the ArchVizViewer?
Please use the contact form or write an email to This email address is being protected from spambots. You need JavaScript enabled to view it.. Alternatively you can call us directly here in Germany: +49 3691 / 245 3300.