Diploma thesis for download
On this website, the contents of my work are presented briefly. Access to the complete document is available under this PDF file.
Preparation
Before the measurement, it must be ensured that all necessary equipment is available. Since the video recording of the game is necessary for the process, there are two possible measurement setups with different requirements.
TV-Out-Capture measurement setup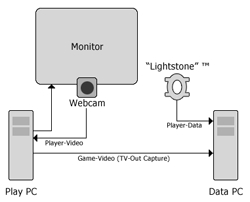 The setup shown here is to be selected if a corresponding capture hardware as well as a graphics card are available in the game PC with TV-Out. The recording quality of the game should be possible with excellent quality (maximum frames per second), without burdening the game PC.
The figure shows a measurement setup, as it would be necessary for the automatic flow measurement. At the moment, however, no automatic measurement is possible because the required facial expressions are not yet available. For this reason, in the construction can be dispensed with a video recording of the player. Likewise, there is no need to connect the "Lightstone".
By omitting the video recording of the player, it is possible in this measurement setup to use the game PC only for the game. Thus, no influence of the measuring software on the gameplay can be done by limited hardware resources.
Screen-Capture measurement setup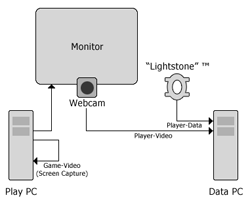 If there is no video capture hardware, the game history can be recorded using screen capture software. However, this has the disadvantage that resources of the game PC's are occupied for this record. In order to still provide sufficient resources for the game to be measured, a reduction in the frame number of the video may be necessary.
As already mentioned, it is currently not possible to perform the automatic flow measurement. Thus, even the data PC is omitted in this measurement setup, since no recording of the player or the data acquisition with the "Lightstone" is necessary. Of course, however, all data can still be recorded to be evaluated with a later available software.
Lightstone & Webcam
The Lightstone is a device that can measure skin resistance and pulse rate. It was the computer game
"The Journey to wild Divine"
included.
For the recording of the player a commercial webcam is sufficient. During recording, it is important to keep in mind that the player's face is well illuminated for mimic recognition to produce good results (as soon as it is available).